At COP 21, held in Paris in November 2015, major countries around the world came to an agreement to reduce CO 2 (Paris Agreement). Hydrogen can contribute to CO2 reduction in various ways. Japan is leading the initiative to create a hydrogen society with the concrete vision on hydrogen energy.
Importance of hydrogen
Hydrogen energy is already widely in use in Japan. What future does the hydrogen society hold for us?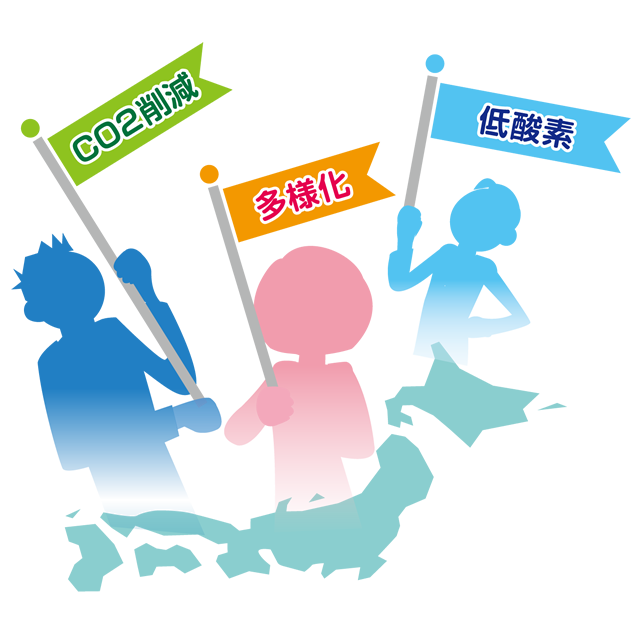 Here are a list of ways that Hydrogen can benefit our lives:
Energy savings - Fuel cells, which produces electricity from hydrogen, are highly efficient, resulting in significant energy savings
Reliable energy supply - Because hydrogen can be produced from various sources creating energy diversity, it contributes to improving energy security in Japan.
Environmental impact – Hydrogen produces zero CO2 emission at the point of use, and by concentrating its production, improving efficiency and increasing the use of renewable energy, we can work towards lowering the environmental impact.
Industry booster - Because Japan has strong competitive advantages on hydrogen and fuel cell technologies, promotion of hydrogen energy will create new business and industry opportunities in Japan.
Japan's Policy
To promote hydrogen energy, it is necessary to have a common vision on hydrogen in the future, and a common understanding on future automobile society. To realize a low-carbon society with hydrogen energy, the Ministry of Economy, Trade and Industry, METI, has developed a roadmap on hydrogen energy which describes the pathway until 2040. It is generally understood that FCVs and electric vehicles (EVs) are not competing, but co-existing in the future automobile society with certain user segments.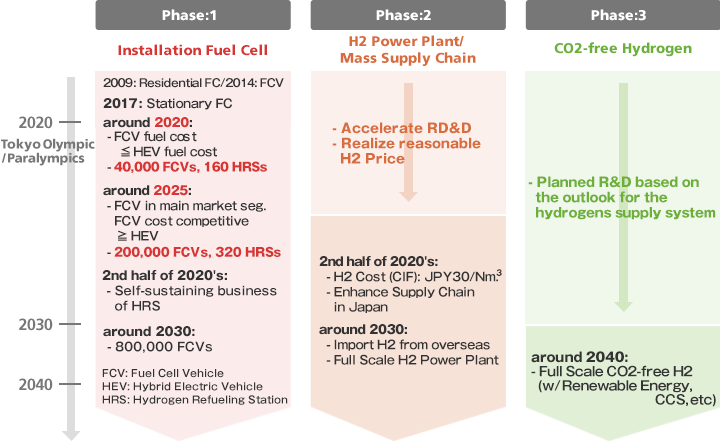 Hydrogen / FC Strategy Roadmap (Revised)
Phase 1: Installation Fuel Cell (Current-)
1. Stationary FC
Clarifies price targets of residential FCs
→disseminates without government support by around 2020

PEFC: 800,000 yen by 2019
SOFC: 1,000,000 yen by 2021
2. Fuel Cell Vehicles
Sets the goals of market introduction

About 40,000 FCVs by 2020, 200,000 by 2025, 800,000 by 2030

Aims at introducing FCVs in main market segment (price range) by around 2025
3. Hydrogen Refueling Stations
Sets the goals of installations and self-sustaining business

About 160 stations by FY2020, 320 by FY2025
*Needs around 900 stations in case of 300Nm3/h refueling capacity by 2030
Self-sustaining business of HRSs by the late 2020s
Thereafter establishes adequate amount of stations in response to the spread of FCVs
Phase 2: H2 Power Plant/ Mass Supply Chain (Realized in the late 2020s)
4. Hydrogen Power Plant
Reflects a report by study group on H2 power plant (March 2015) , embodies the description
Phase 3: CO 2 -free Hydrogen (Realized in around 2040)
5. Hydrogen derived from Renewable Energy
States to launch a working group which handles technical and economic issues regarding introduction of CO2-free Hydrogen concluded in March 2017.

Describes the promotion of advanced initiatives such as the reform 2020 project and Fukushima new energy society initiative.
Hydrogen-related Organizations
Other information site for Hydrogen
Tokyo Suiso-miru
https://www.tokyo-suisomiru.jp/language/en/

(from website)

About "Tokyo Suiso-miru" The hydrogen information center "Tokyo Hydrogen Museum (Tokyo Suiso-miru)" (meaning "viewing hydrogen") is a facility where visitors can enjoy learning hydrogen, which is actually invisible, and see the future image of a potential hydrogen society while "viewing, touching and experiencing" hydrogen.

On the second floor are an open library with exhibition booths that introduce the latest technologies and products, a lecture room that can be used for a wide range of purposes, and power generation devices with which visitors can generate hydrogen themselves using bicycles.